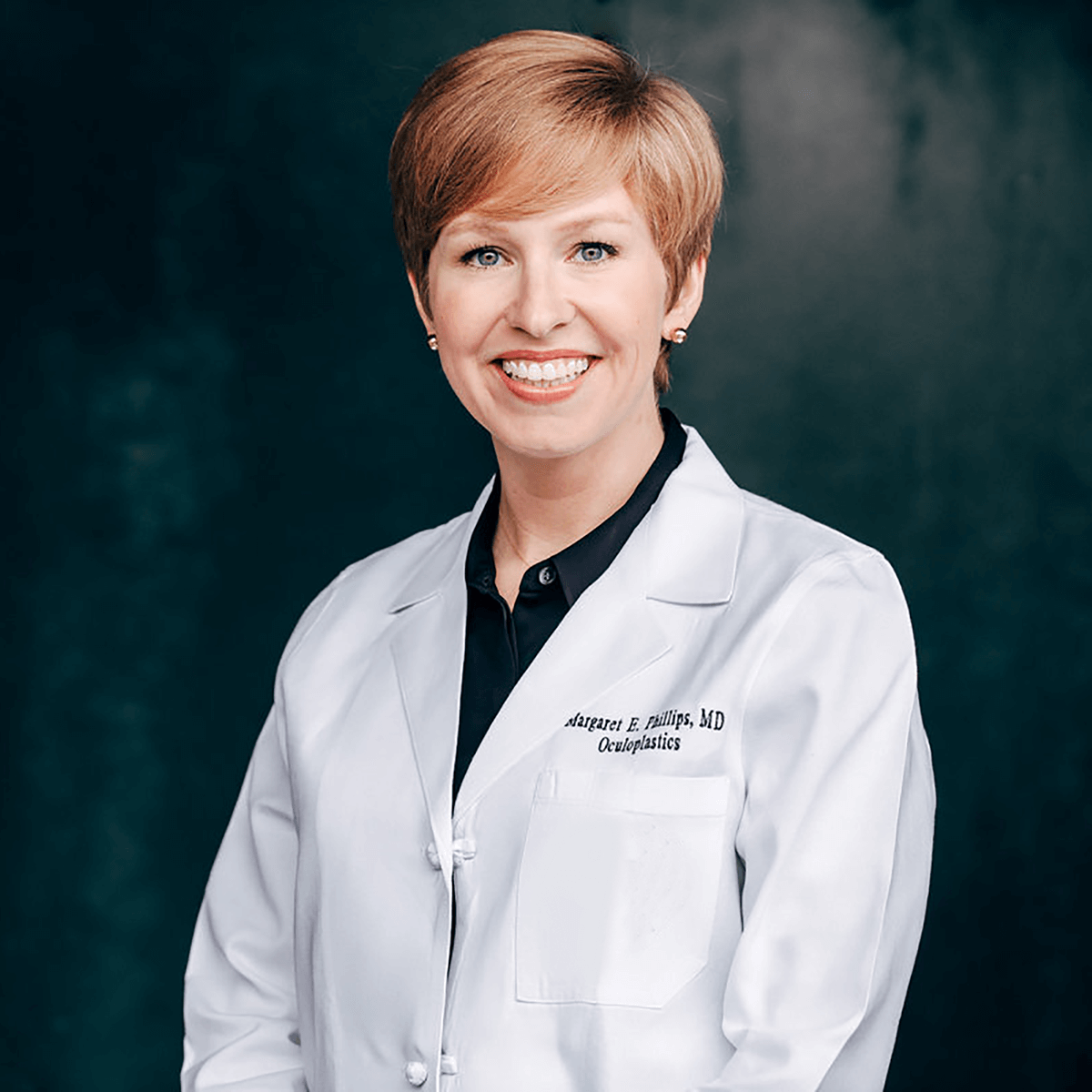 Margaret E. Phillips, MD
Dr. Margaret E. Phillips is a board certified and fellowship trained ophthalmologist specializing in oculoplastic surgery. She graduated from the University of Alabama at Birmingham School of Medicine, where she was a member of the Alpha Omega Alpha honor society and the Gold Humanism Honor Society. Dr. Phillips completed her ophthalmology training at the University of Maryland, after which she completed a fellowship in oculoplastic surgery accredited by the American Society of Ophthalmic Plastic and Reconstructive Surgeons at the University of Tennessee Hamilton Eye Institute in Memphis, TN, and the Vanderbilt Eye Institute in Nashville, TN.
Before moving to South Mississippi, she was an oculoplastic surgeon with the University of Texas Health Science Center at Houston where she received the Dean's Teaching Excellence award, Houston's Top Doctors 2017 award from H Texas magazine, and the Rising Star award for Texas Super Doctors 2018 in Texas Monthly Magazine. She is married to Clay, and they have two small children. Dr. Phillips is excited to call Gulfport home, and she looks forward to many years serving this community as an oculoplastic surgeon.
"An Amazing Doctor"
Dr. Phillips and her staff are all very friendly and made me feel comfortable during all my visits. She is an amazing doctor who talks to you, not over you, about what's going on, what she is doing during procedures and listens to your concerns during follow ups.
— Delicia R.
"Truly Phenomenal"
Dr. Phillips is truly phenomenal. My son is 12. He has autism and a rare genetic disorder...Dr. Phillips took time to look into his genetic disorder and understand it more to see how his diet could possibly affect the issues he is having. That alone "sold me" on her being a great doctor. But her bedside manners are impressive...You can tell she truly loves what she does and the patients she cares for. I would recommend this office, staff and provider 1000x over. So happy we were referred.
— Paige H.
"Super Helpful"
I'm thankful for Dr.Phillips! She's been very helpful with my recent tearing issues... not to mention kind — her nurses and staff have been super helpful too. She is just what the Gulf Coast has needed!
— Angel R.
Contact Us
Thank you for your interest in Restore Oculoplastics Gulf Coast. Please contact us at (228) 231-9477 for your consultation.